Recipes!
Amazing Muffin Cup
Who can say no to perfectly portioned, portable breakfast goodness? This fantastic recipe brings together all the breakfast essentials: crisp, delicious hash browns, fluffy eggs and fantastic Johnsonville Breakfast Sausage. Add some cheese, peppers and onions, and you've got yourself an excellent way to start the day!
What You Need
Johnsonville® Original Recipe Breakfast Sausages
frozen country-style hash brown potatoes, thawed
butter, melted
salt
pepper
eggs, lightly beaten
(8 ounces/227 g) shredded 4-cheese Mexican blend cheese
chopped red bell pepper
chopped fresh chives or green onion
Preparation
Prepare sausage according to package instructions, cool slightly and cut into ½-inch pieces; set aside.
In a bowl, combine hash browns, butter, salt and pepper; divide evenly into 12 greased muffin cups.
Press mixture onto sides and bottom of muffin cups.
Bake at 400F for 12 minutes or until lightly browned.
Remove from oven, divide sausage pieces into muffin cups.
In a bowl, combine eggs, cheese and bell pepper.
Spoon mixture evenly into muffin cups.
Sprinkle with chives or onion.
Return to oven, bake 13-15 minutes or until set. Serve.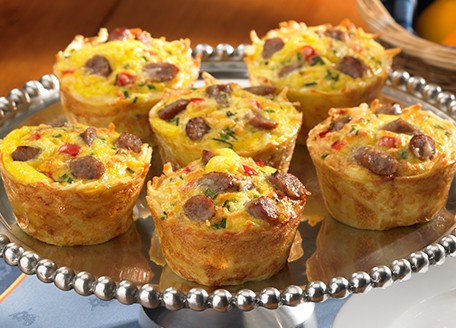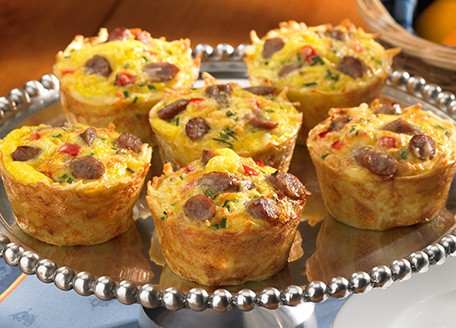 Featured Product: Original Recipe Breakfast Sausages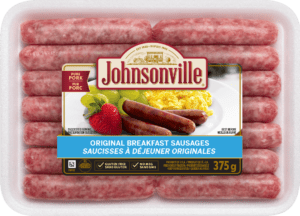 Johnsonville's Original Breakfast Sausages combine the great flavour of juicy pork sausage with a balanced rosemary and sage seasoning.
READ MORE >
Other Recipes You'll Love
Stay Inspired. Join Our Community.