Recipes
Bratwurst Hot Italian Bolognese Quesadilla
Bratwurst, Bolognese, and BBQ: the three B's you didn't know you needed. This recipe is served with roasted red pepper, mozzarella, arugula pesto mayo and so. much. sausage. Best of all you can cook it anywhere: backyard BBQ or on the stove, this dish turns out delish every time.
Recipe developed by Chef Devan Rajkumar
What You Need
Bolognese
smoked or fresh mozzarella cheese, shredded
roma tomato, deseeded, reserve some for garnish
Arugula Pesto
arugula, washed and dried
parmigiano reggiano, grated
extra virgin olive oil, more as needed
Preparation
In a food processor or a litre container combine arugula, garlic, pine nuts, Parmigiano Regianno, lemon and olive oil. Season Process to form arugula pesto, adding water as needed to thin out. Taste and adjust seasoning as required.
In a skillet, on medium heat, start by adding Johnsonville Original Recipe Bratwurst and Johnsonville Hot Italian Sausage. Break up the sausage for the bolognese and cook until golden brown. Remove from the pan and set aside in a bowl.
Reserve about two tablespoons of fat from cooking the sausage. Add onion, carrot and celery along with a pinch of salt and cook till golden, about 2 -3 minutes. Add garlic and sauté for 1- 2 minutes. Add tomato and tomato paste, and cook until the liquid from the tomato has dried out, about 2 -3 minutes. Add sausage back to the pan and cook for 2-3 minutes. Add heavy cream then taste and season accordingly.
Brush the quesadillas with vegetable oil on both sides. Heat a cast iron skillet to medium heat, then place one quesadilla in the pan. Brush with arugula pesto, add a layer of smoked mozzarella then spoon the bolognese onto the tortilla, and top with torn basil, and a tablespoon of fresh tomato. Finish with smoked mozzarella.
Place the other tortilla on top and let the cheese melt to seal the quesadilla. Gently lift the quesadilla to see if the bottom is crisp and then flip to repeat on the other side.
Garnish with fresh tomato and arugula pesto. Serve immediately.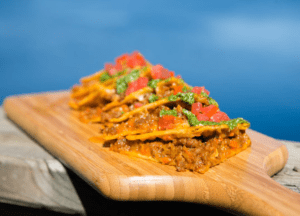 Featured Product: Hot Italian Sausages
Italian sausage with some kick, thanks to a well-balanced seasoning blend that is enhanced with just the right amount of crushed red pepper.
READ MORE
Stay Inspired. Join Our Community.