Recipes
Roasted Potato, Egg, Tomato & Sausage Breakfast Skillet
One sure-fired way to make anyone a morning person is to toss some Johnsonville Breakfast Sausage into a skillet. Add in some sautéed garlic and rosemary alongside potatoes and onions and you have one delicious morning. And a guarantee that no one is skipping breakfast today.
What You Need
Redskin potatoes cut into bite-size pieces
Preparation
In a large skillet, heat olive oil and sauté potatoes, onion, rosemary, salt, pepper and garlic. Cook for about 20 minutes until everything is almost done, then remove the mixture from the pan and put it aside.
Cook the sausage in the same skillet for about 10 minutes until the internal temperature reaches 82°C (180°F). Cut each link into thirds.
Add the cherry tomatoes and cook for another 3 minutes.
Pour the potatoes and onion mixture into the skillet.
Add the eggs over the ingredients and cook until eggs are done.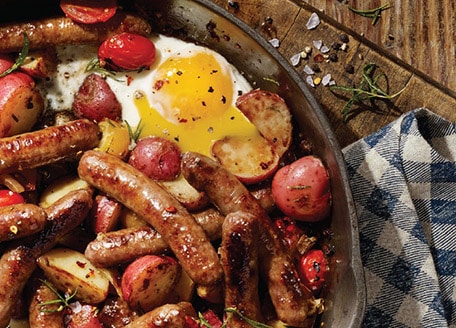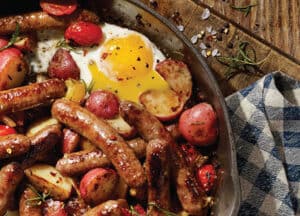 Stay Inspired. Join Our Community.