Recipes
Wunderbar Schnitzel Sandwiches
You're going to want to raise a stein of your favourite brew to these schnitzel-inspired sandwiches. Our world-famous brats and chewy, salty pretzel buns are a match made in Bavarian heaven. Best of all, you don't have to bust out the lederhosen to enjoy them.
What You Need
diced onions, sautéed until caramelized and cooled

bunch of chopped, flat leaf parsley
FOR THE HORSERADISH MAYO:
Preparation
Thoroughly mix the sausage meat and all other patty ingredients (except canola oil) together. Divide into 10 equal portions and form patties. Refrigerate for at least an hour.
Note: The sausage recipe yields 10 patties. Freeze remaining 6 patties for use another day.
Mix the horseradish mayo ingredients together, adjust the seasoning and set aside.
Set up a breading station using 3 separate baking dishes. In one dish, combine the flour with salt and pepper. In the second, whisk together eggs and milk. In the third, combine panko with salt and pepper. Dredge each patty in the seasoned flour, then in the egg wash and then thoroughly coat with panko. Arrange on a sheet pan.
In a large non-stick frying pan, heat the canola oil and shallow fry the patties until golden brown, approximately 3 minutes per side. When cooked through, drain on paper towel.
Lightly toast pretzel buns and spread about 1 tbsp of mayo on the bottom of each bun. Add lettuce, then the patties, pickles, onions and more mayo, if desired.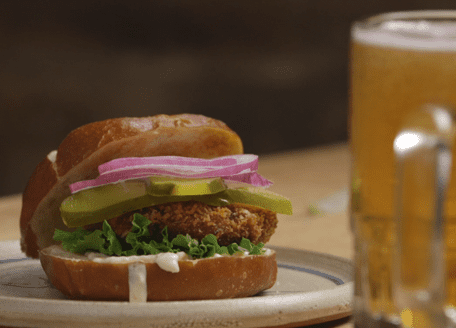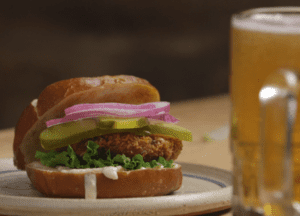 Stay Inspired. Join Our Community.