Recipes
German Festival Soup
This rustic soup, a perfect accompaniment to any cold-weather meal, is also hearty enough to serve as a main course. Combining our savoury Original Recipe Bratwurst Sausage and classic vegetables in a warm, perfect-for-fall soup, this dish will be a couple a staple of your fall to winter lifestyle.
What You Need
large rutabagas, peeled and cut into strips
turnips, peeled and coarsely chopped
butternut squash, peeled and coarsely chopped
medium yellow onion, coarsely chopped
medium roma tomatoes, chopped
frozen green beans, french-cut
celery ribs, coarsely chopped
carrots, coarsely chopped
fresh, frozen, or canned (drained) whole-kernel corn
head of green cabbage, coarsely chopped
salt and pepper, to taste
Preparation
Prepare sausages according to package instructions. Cut into 1/4 inch coins.
Pour the broth into large stockpot. Add the rutabagas, turnips, sqash, and onion. Bring to a boil over high heat. Add the tomatoes, beans, celery, carrots, corn, cabbage, barley, and garlic. Season to taste with salt and pepper. Cover, and reduce heat to medium-low. Simmer for 25 to 30 minutes, until all the vegetables are tender.
Skim any impurities that may have risen to the soup's surface during the cooking process. Add Bratwurst and cook for a few minutes more to heat through. Adjust seasoning if necessary.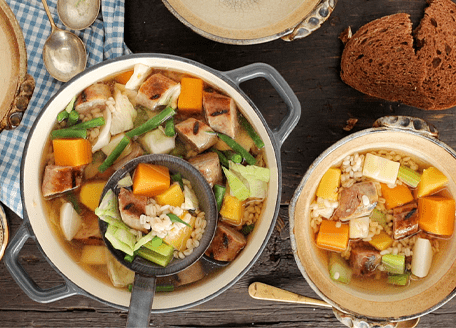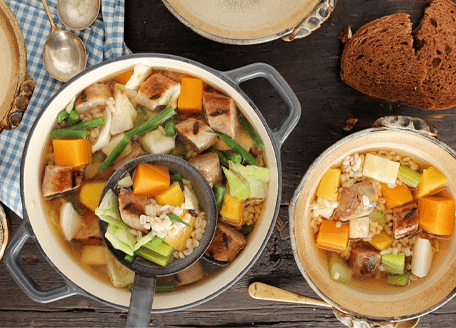 Featured Product: Original Recipe Bratwurst Sausages
Stay Inspired. Join Our Community.