Recipes
Sausage-Stuffed Pierogies
Fresh air and wide open spaces. They make the Prairies great. And they can make you really hungry. That's why Ukrainian-inspired dishes like this one are a perfect go-to meal, wherever you are.
Recipe by Karlynn Johnston of TheKitchenMagpie.com
What You Need
potatoes, boiled and still hot
old cheddar cheese, grated
fresh cracked black pepper
reserved cooking water from the potatoes
extra pinch of coarse sea salt for the dough
Preparation
Boil your potatoes and drain, but don't forget to set aside some of the water for the dough. Place the still-hot potatoes into a bowl and mash together with the cheese, salt and pepper until the cheese has melted and the potatoes are smooth. Stir in the prepared sausage and set aside.
Combine the butter and reserved potato water in a large bowl. Mix in the flour and a pinch of salt until a soft, slightly tacky dough forms. It should not be too sticky.
Cover the dough with a clean cloth and let rest for an hour.
Flour your working surface and turn out the dough onto it. Sprinkle the dough lightly with flour. Roll out to a thin layer, slightly less than a ¼ of an inch thick. Using a cookie cutter or small soup can – the perfect size – cut the dough into circles.
Place a heaping teaspoon of filling into the centre of each dough circle. Pinch the sides until sealed.
Place all the perogies onto a baking sheet and pop them in the freezer. When they're good and frozen, you can transfer them to a freezer bag for storage.
To cook, bring a pot of water to a boil then place the perogies in the pot. Boil until they rise to the surface, then cook for 2 minutes more. Drain and toss with butter to prevent sticking. Serve and enjoy!
Tip Serving Suggestion: Sauté cooked perogies in butter until they're nice and brown then sprinkle with chopped fresh parsley.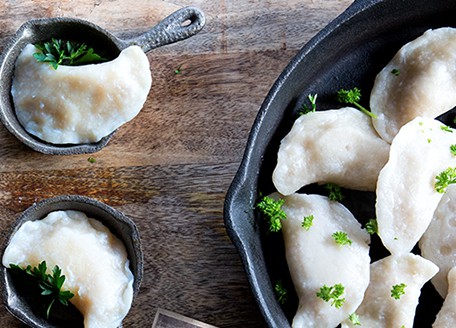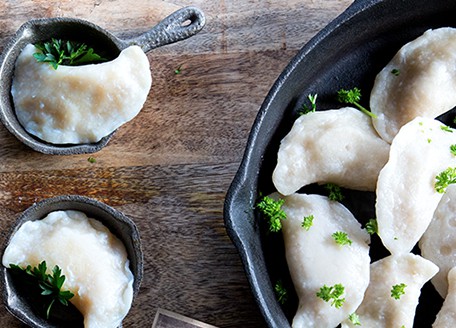 Stay Inspired. Join Our Community.