Recipes
Spicy Mussels with Italian Sausage
Canada's East Coast is renowned for its unparalleled seafood. And after trying this recipe, you'll know why. It calls for fresh mussels and combines them with the hearty richness of sausage for an always satisfying one-pot meal. You won't want to miss a drop.
Recipe by Beth Dunham of Bethdunham.ca
What You Need
small onion, finely diced
large garlic cloves, finely minced
large tomatoes, chopped (about 2 cups)
Preparation
Clean the mussels by running them under cold water and removing the beards. Discard any mussels that are open, do not close when you tap on the shells or any mussels with broken shells.
In a large deep pot, heat the vegetable oil over medium-high heat and sauté the onion until translucent, about 2-3 minutes.
Add the garlic and crumble the sausage meat into the pot. Cook the mixture, stirring occasionally for another 4-5 minutes, or until the sausage is cooked through.
Add the tomatoes and wine and cook for another 5-6 minutes, until the tomatoes have softened.
Increase the heat to high, and bring the mixture to a boil. Add the mussels and cover, cook for 3-5 minutes, until the mussels have opened.
Ladle into bowls and garnish with the parsley.
Serve with plenty of crusty bread for sopping up the flavourful sauce.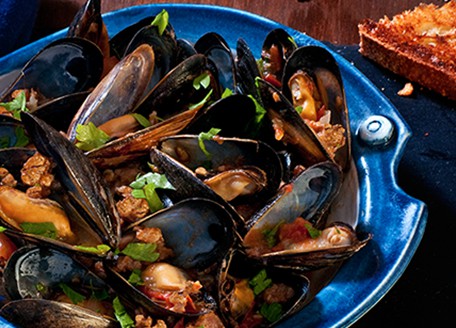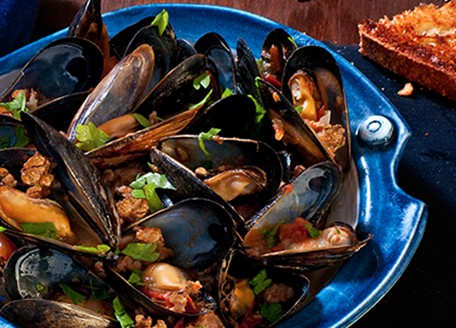 Stay Inspired. Join Our Community.