Recipes
Steamed Clam and Mild Italian Sausage with Tomato Broth
Sausage makes a flavourful addition to almost any seafood recipe. With this recipe celebrity chef Mark McEwan has combined the savory taste of steamed clams with the robust flavour of Johnsonville Mild Italian Sausage for an unbeatable combination. It's our own version of Surf and Turf.
What You Need
(60 mL) canned whole Roma tomatoes, crushed
(30 mL) Spanish sofrito(recipe follows)
(5 mL) chopped oil - preserved red chili
(250 mL) fish stock (recipe follows)
(15 mL) whipped butter (recipe follows)
(30 mL) chopped mixed parsley, oregano, and cilantro
red bell pepper, roasted, peeled, and chopped
cloves garlic, roasted and chopped
(1 kg ) white fish bones (such as halibut, sole, turbot, flounder), rinsed and chopped
small leek, white part only, sliced
(450 g) butter, at room temperature
Preparation
In a large sauté pan, sweat the onions in olive oil over medium heat for about a minute, and then add the sausage.
When the sausage is heated through and its fat is beginning to liquefy and escape, add the tomatoes, sofrito, and chili. Sauté a minute longer.
Add clams and immediately deglaze the pan with the wine. Once that has reduced by about a third, add the fish stock. Bring to a simmer and then cover the pot.
After 5 to 7 minutes and when the clams have popped open, stir the pot and discard any clams that did not pop open.
Now add the butter, lemon juice, half the chopped herbs, and half the scallion, and season lightly. Stir again. Taste and correct seasonings if necessary.
Transfer the clams to a large, warm serving bowl, pour the sauce over top, and sprinkle with the remaining chopped herbs and scallion.
For Spanish Sofrito: Combine 1 red bell pepper, 2 scallions, 3 cloves garlic, 6 anchovy fillets, 2 tbsp parsley, 1 tbsp sherry vinegar, 1/2 tsp sambal oelek. Store in refrigerator.
For Fish Stock: Combine white fish bones, 1/2 spanish onion, 1 leek, 16 parsley stems, 3 bay leaves, 12 peppercorns, 1 lemon, 1 cup white wine and 2 tbsp kosher salt in a heavy-bottomed stock pot (not aluminum). Add 2 quarts of cold water, bring to boil, and then simmer for an hour or so, skimming scum from the surface as it rises.
For Whipped Butter: Place 1lb butter in the bowl of a stand mixer fitted with a paddle. Blend until creamy. Add 3 ice cubes, and blend until melted and incorporated completely. Keep refrigerated.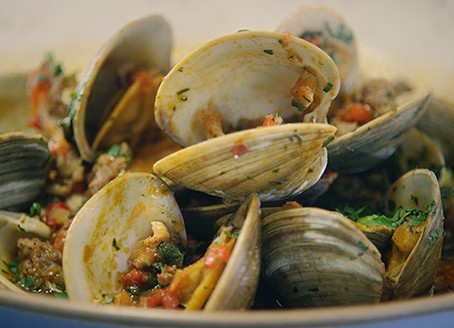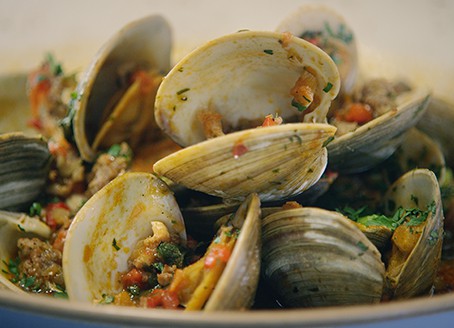 Stay Inspired. Join Our Community.