Recipes
Traditional Quebecois Tourtière à la Johnsonville
It's hard to improve on a beloved classic like Tourtière, the savoury French Canadian pie notable for its rich combination of spices and a light, flaky crust. But when your secret ingredient is Johnsonville Mild Italian Sausage Meat, you just might be on to something.
Recipe by Jason Lee of shutupandeat.ca
What You Need
egg, beaten with 1 tbsp. of water
fresh cracked black pepper
store-bought pie shells + store-bought puff pastry sheet (Short crust pastry -'pâté brisée') OR you can also use 2 double crust pie crusts and your own pie pans
Preparation
Preheat oven to 375F and place rack in the lowest position.
In a large skillet, heat the oil over medium-high and sauté the onions and garlic until translucent. Reduce the heat to medium and add the sausage and ground beef, crumbling it with a wooden spoon. Cook for 10-15 minutes.
Mix in the cinnamon and nutmeg, then add the potatoes and chicken broth and simmer on low heat for 30 minutes or until the potatoes are nice and soft. Season to taste with salt and pepper. Stir occasionally and add a little bit of water if the mixture seems dry. Remove from heat, cover and let cool in the fridge for at least 2 hours.
Thaw the frozen pie shells and roll out pastry dough into 1/4 inch thickness. (or bring pie crusts to room temperature)
Fill the pie shells with the cooled meat mixture and dab 2 pats of butter on top of each one. Cover with the pastry dough. Cover with top crust, crimp and seal edges. Cut steam vents in the centre of the pie. Brush egg wash over the top of the pie and bake for 50-60 minutes or until crust is golden.
Let cool for 15 minutes before serving.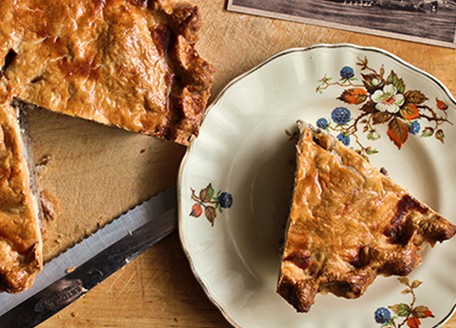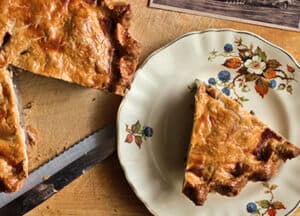 Stay Inspired. Join Our Community.